Projeya Salnameya Kurdî
Hedî Gomayî / 27 Rêbendan 2630
Salname û roja destpêkê sal a kurdî
Dema mirov li tabloya li binê ye bnere dibînin ku her neteweyek cîhanê di qonaxa serxwebûn an desthilata mutleq an jî bûyerek girîng a neteweyî de salnameya xwe û destpêka salnameyê li hin cihan bi bûyera dîrokî ve diyar kirdine.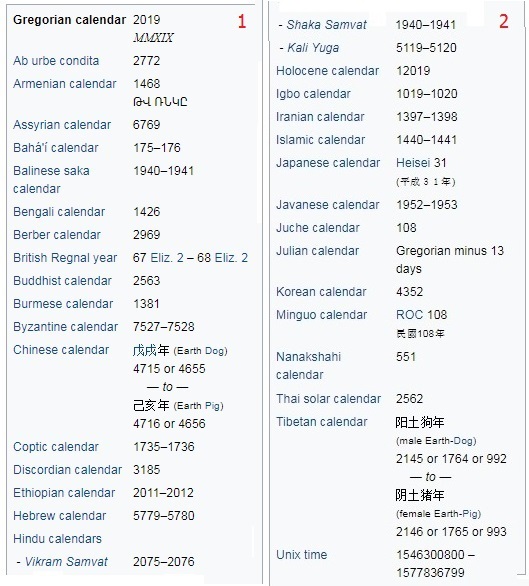 Diyarî kirina salên despêk ji bo salnameya kurdî
Sala herî destpêkê ya ku heya niha di salnameyên kurdî de derketiye, bi gelemperî 700 an 612 b.z biye. Helbet em herdu destpêka salê be giring u rast dibînin ji ber ku her du jî di dîroka Mediyên de ku gelek dîroknas gutine wan eslê kurdên îroyîn, xalên girîng bûne. Lê herî zêde şîroveyên di nava civate kurd ên herêmên cuda ên kurdistanê de ew in, wî gotin raste ko koşişên Diyako ya Peşawer di salên 700-î yên berî zayînê de be yekxistina eşîrên belavbûyî yên kurdan di sîstemeke yekgirtî de karîbû wan di dewleteke bi navê Medya de bigihîne hev u bi xwe ji sala le sala 708 heya 656 b.z. bû şahê yekem, Lêbelê, ew heya serdema Hoxiştra III (Kêy Xosrow 633 - 584 b.z.) hamîn padîşahê Medyayê di bin desthilatdariya Împeratoriya Asûr de mabûn, di sala 612 berî zayînê de bi alîkariya şah Nebukadnezarê Babîlê Împeratoriya Asûrî hilweşand û welatê xwe serbixwe kir. Ji ber vê yekê sala 612 berî zayînê wek destpêka azadkirina Mady, yekane dewleta kurdî ya yekbûyî di dîrokê de tê hesibandin.
Salnameya nû ya Kurdî
Ji ber ku Kurd li ser beşekî axa xwe otonom bûne, hîna jî weke neteweyên din ên vê serzemînê bi biryareke fermî li ser xwedîkirina salnameya xwe ya neteweyî nefikirîne. Carinan wek yên ji du sedsalên berê heya îro, li bajar û bajarokên başûra Kurdistanê tenê bi hewildaneke takekesî hin salnameyên ne fermî têne weşandin ko Kopî ya salnameya îranî ye, ji ber vê yekê ez û hevbîrên xwe Hozeya ola Zerdeştî ya Kurdistanê fikirîn ku divê em kurd jî salnameya xwe ya netewî hebin. di qonaxên cuda de dimedyaya kurdî de derketine, lê piraniya wan salnameya tam a îranî "Koçî" ye ku helbet ji ber sedemên jêrîn bi salnameya mîladî (Gregorian calendar)* ya ku le %80 neteweyên cîhanê pê dişopînin re nagunce. Ji ber vê yekê di Newroza 2017 ye Gregorian de me li Hozeya olî ya Kurdstanê li swêd biryar da ku em salnameya "Zerdeştî / Kurdî" çêbikin û li ser malperên xwe belav kirin. Wek ku me dît, di nav piraniya kurdperweran pasand bû lewma em baş dibînin ku Encûmena Şalyarên Herêma Kurdistanê û Parlamentoya Herêma Kurdistanê pêşniyara me li ber çavan bigirin u bi aliyak zanistî û teknîkî yên fermîkirina salnameya kurdî [bi awayê du qalibên ku hûn di jêrenotê de dibînin an jî formek din ê guncav bi salnameya Gregori re ku li zor welatan tê pejirandin, di nav gelek miletan de jî bi salnameyên xwe yên neteweyî têne pejirandin. Piştî Newroza 3754 Zerdeştî / 2628 Kurd li vê bigire da di Hoze de me biryar da ku Destpêka her saleka Kurdî (Xakelêwe / Newroz) bikeve di 21ê mehê Mars ye wan salnameya Gregori ku fîlozofê îtalî (Alisius Lilius)** di ber ronahiya salname ye rojê ye Maya yên Amerîkaya Latîn, salnameyên Fîrewnên Misrî, Asûrî û Sumerî yên Rojhilata Navîn ve hate pêşniyar kirin û ji hêla Papa Gregori XIII di 24ê Febriuari 1582 de ve pasand kiriye¨u li rojavayê cîhanê hate pejirandin. Ji ber vê yekê me be pêwîst zanî ku salnameya ku bi salnameya Gregorire lihev çê bibe. Di vê salnameya ku tê pêşniyarkirin de hemû rojên pîroz ên miletê me bi hemû salên mîladî re di heman rojê de ne.
………………………………………………………………………
Binêre nivîsa latînî ya wî projeya ku sa,e 1582 li Romayê hatî arşîvkirin
** - Aloysius Lilius 1519-1576 pizişk, fîlozof û kronometre (Miqatî) Îtalî bû, wê pir navdar bûye be organîzekirina salnameya Gregorian, Harold Jacques Dutka, matematîkzanê Amerîkî, ravekirinek li ser projeya Lilius bi navê Compendium novae rationis restituendi kalendarium, ango di salnameyê de şîroveyeke nû ya li ser salnameyê de.
………………………………………………………………………
Çavkaniya salnameya îranî û perelêl nebûna rojên bone yên pîroz u cejnên kurdî têda bi salnameya Gregorî re
Di serdema Sultanê Selçûqiyan, Celaleddîn Malikşa de, komek matematîkzan û stêrnasan biryar dan ku destpêka sala rojê ji bo salnameya bi navê Celalî diyar bikin. Tenê pîvan tevgera rojê ji esmanê başûr li ser ekvatorê ber bi beşa bakur ve bû. li gorî salnameya Celal, ku çavkaniya wê salnameya Babîlonî bû, ku ji serdema Axamenîsiyan di bin bandora salnameya pharaonî de maye. ji salnameya mîladî yek an carinan du rojan. Ango salnameya koça rojê ya Îranê heman salnameya Celalî ye, ku li gorî şiroveya koma stêrnas Omer Xeyam, sala dest pê dike ku roj ji aliyê başûrê kembera dinyayê ber bi bakurê ve digihêje xala derbasbûnê. Lê bi dîtina me ev bi serê xwe bûye sedema her sal nerêkevteî yê (1 a Xakelêwe) roja yekem a sala kurdî bi roja 21 a maha Mars li sala Gregorî û her wiha nerêkbûna cejn û rojên pîroz li gorî salnameya mîladî. Binêre jimareya (II) ya paragrafa jêr: wê salname ku aliyê kes an saziyên nefermî yên li başûrê Kurdistanê tên weşandin tam ji salnameya Celal Îranê hatiye girtin ku meclisa Şêwra Îranê di (11 ya Freverdîna 1304 koçî-xorî) ya îranî beranber (31 a adara 1925) an de biryar da ku li seranserê Îranê bi dema Tehranê were pejirandin.

Binêre serê salê di salnameya rojê ya Îranê de, Newroz ku li salnameya rojê ya îranî, roja destpêka salê ye, ji salnameya mîladî di navbera salên tije û salên din kembûê da debin, her weha hemî Demên girîng û pîroz, wekî ku hûn di wêneyê III de dibînin [ango, 22 January 1946] ku roja ragihandina Komara Kurdistanê ye sê sal şûnda dikeveşûnda 21ê January, wekî betlaneyên din ên girîng ên salê her çar salan carekê Cihê wan diguherîne.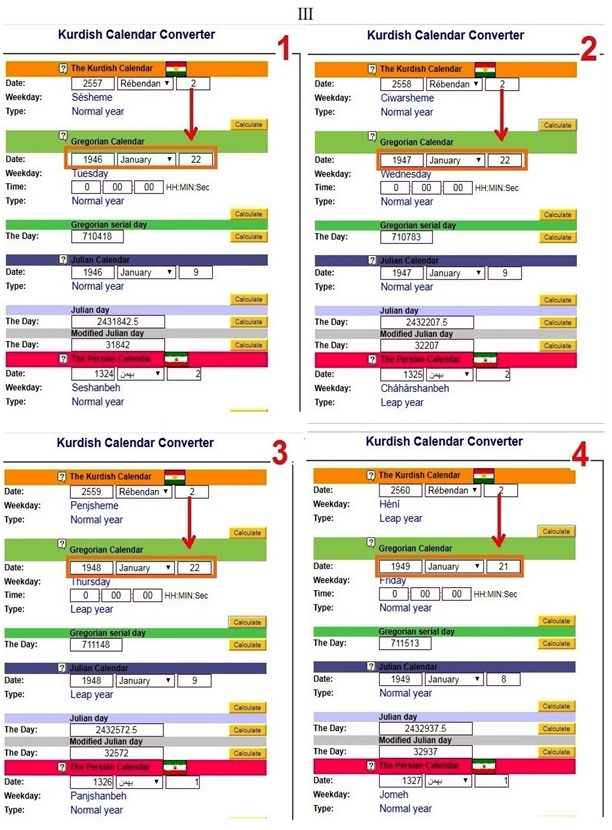 Lê Newroza ku her sê salan carekê dikeve 20ê adarê di salnameya mîladî ya dikeve sala 1935an da di 22ê adarê da ye. Binêre Figure (IV)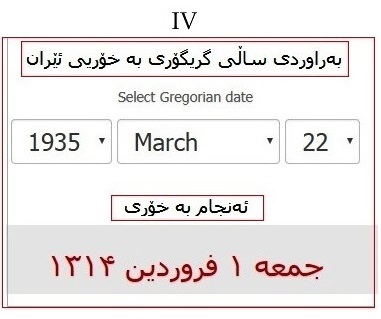 Tevî ne tesadufî roja ewil a salê, li nîşana V-yê kêlekê binêrin, Veguheztina sal di şert û mercên normal de, li gor salnameya Gregorî li her welatê ser gerstêrka me, di saniyeya yekemên piştî 12 ya nîvê şevê dest pê dike, lê kêliya zivirîna sala rojê ku li gorî dema Tehranê hatiye danîn, li deverên cûda yên cîhanê da li demên cûda de dest pê dike.
Ji ber vê yekê pêşniyara me ew e ku roja yekem a sala kurdî ku Newrozê ye, li her herêm û welatên cîhanê di saniyeya yekem a piştî nîvê şeva 20ê Adarê ya her sala mîladî de be. Ji ber vê yekê, salnameya ku me çêkiriye tam bi salnameya Gregorî re ku sal tê de pêk tê li (365 + 4⁄1 − 100⁄1 + 400⁄1 = 365.2425) rojên dabeş kirin dabeş kiri li ser 12 mehan da.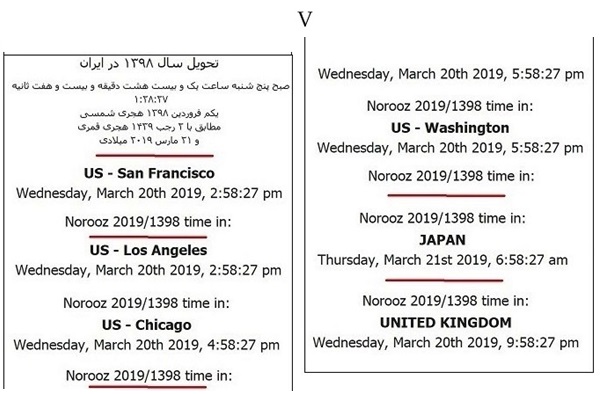 Salnameyên kurdî jî wek salnameya rojê ya Celal bi roja Newrozê (ango 1ê Xakelêwe) dest pê dikin, loma bi dabeşkirina jimareya jorîn li ser donzdeh mehan, gora vi, proseya ji bo eyarkirina mehan her wek salnameya rojê ya Celal bi roja Newrozê (1ê Xakelêwe) dest pê diken, bi parve kirina jimareyan li serê 12 mahan da her maheki dibe 30.43685 rojan, ji ber vê yekê pêvajoya verastkirina mehên di salnameya me ya pêşniyarkirî heya puana herî nêzîk Ji ber wî guncaw be bi salnameya Gregorî, ji ber wê aliê li sala natemamêda, her yak li mehên 1 heya 6 ji 31 ​​rojan pêk tên û mehên 7 heya 11 yan 30 ​​rojan dibin û 12 hemî mahan dibe 29 rojan, bi giştî hejmara rojên wî salê dike 365. Lê her çar salan carekî mehên 1 heya 6an 31 rojan hene u mehên 7 heya 12an 30 roj in, ji ber wê koya hejmara roja wî (Sala zexit kirî "leap yeer") dibin 366 rojan.
Diyarkirina salên Zerdeştî
Her çend di derbarê dema jidayikbûna Aşû Zerdeşt û dema eşkerebûna ola wî de gelek bîr û rayên cihê hebin jî, lê di qonaxên cuda yên dîrokê de, çend salnameyên Zerdeştî yên bi navê Ahûrayî, Mîtrayî û salnameya Zerdeştî bi nimreên cuda li gor destpêkê hene hatiye tomarkirin. Hozeya olî ya Zerdeştiyên Kurdistanê li Swêdê serî li çavkaniyên Zerdeştî didin ku ji me re dibêjin ku Aşû Zerdeşt di serdema Qral Kuştasp de jiyaye û bi piştgiriya wî ola xwe belav kiriye, bi taybet referansên di Bundehiş de behsa wan hatinê. Her weha di Encumen a olî ya Zerdeştî li Kalîforniyayê jî biryar daye ku sala 1737 berî zayînê Mesîhê rast tirîn destpêkine ji bo salnameya Zerdeştî.

| | | | | | |
| --- | --- | --- | --- | --- | --- |
| Rîzbenda mehan | Jmareya Rojan | Bi îranî | Bi Zerdeşitî | Bi SoranI | Bi Kurmançî |
| 1 | 31 | Farvardin (فروردین) | Fireverdîn | خاکەلێوە (نەورۆز) | Adar / Avdar / 'Edar! |
| 2 | 31 | Ordibehesht (اردیبهشت) | Erdibhîşt | بانەمەڕ (گوڵان) | Nîsan / Avrêl! |
| 3 | 31 | Khordād (خرداد) | Xordad | جۆزەردان | Gulan |
| 4 | 31 | Tir (تیر) | Tîr | پووشپەڕ | Hezîran / Cehzeran / Pûşper! |
| 5 | 31 | Mordād/Amordād (مرداد/امرداد) | Amurdad | گەلاوێژ | Tîrmeh! |
| 6 | 31 | Shahrivar (شهریور) | Şehrîwer | خەرمانان | Tebax / Gelawêj! |
| 7 | 30 | Mehr (مهر) | Mîhr | ڕەزبەر | Êlûn / Îlon / Rezber! |
| 8 | 30 | Ābān (آبان) | Avan | خەزەلوەر (گەڵاڕێزان) | Çirîya Pêşîn / Cotmeh / Kewçêr / Tişrîna 'Ewil! |
| 9 | 30 | Āzar (آذر) | Adir | سەرماوەز | Çirîya Paşîn / Mijdar / Sermawez / Tişrîna Dawîn! |
| 10 | 30 | Dey (دی) | Dê | بەفرانبار | Berfanbar / Kanûna Pêşîn! |
| 11 | 30 | Bahman (بهمن) | Behmen | ڕێبەندان | Rebendan / Kanûna Paşîn! |
| 12 | 29/30 | Esfand (اسفند) | Esfend | ڕەشەمە | Sibat / Reşemî! |
Şiroveya / Salnameya kurdî li Wîkîpediya
Adar: Kurtkirina "Avdar"ê ye[çavkanî hewce ye]. Ji xwe hinek herêm Avdarê bikartînin. Têgiha bi av, xwedî av, têrav dide. Him jî têgiha "av dikeve daran" dide.
Avrêl: Ji peyvên av û rêl (daristana çiyan) hatiye himatê[çavkanî hewce ye]. Di vê mehê de av dikeve rêlan jî. Ango rêl jî şiyar dibin.
Gulan: Meha gulan. Li Kurdistanê di vê mehê de gul tên çinîn.
Pûşper: Hevedudaniya ji peyva "pûş" û "per" e. Ji giyayê ne diriyê hişkolek re "pûş" tê gotin. Di vê demê de giyayê çiyan wisa hişk dibe her wekî bi per in, ba lê dixe û difirîne. Lewra bi navê "Pûşper" hatiye bi nav kirin.
Tîrmeh: Hevedudan î û ji wûşên "tîr" û "meh" pêk hatiye. Tîr naveke din ji bo Sirius e. Tîr stêrka herî ronî de ezmanan e. Navê mehê 'tîrmeh' ji vê sterkê tê, ji ber ku di dawiya vê mehê derdikeve.
Gelawêj: Di vê mehê de, stêrka Gelawêj xwiyadibe û cîhan hêdî hêdî ber bi sermayê ve diçe.
Rezber: Li Kurdistanê bi piranî tiriyên rezan di vê mehê de tên çinîn. Ji bo çi peyva birîn tê bikaranîn û çinîn nayê xebitandin. Lewra weşiyên (gûşiyên) tirî tên birîn. Ji ber vê yekê "Rezçin" ne rast e. Rezber bê xweşûş rast e.
Kewçêr: Ji çêrîna kewan hatiye hevedudanî kirin. Di vê mehê de kewên koçber ber bi zivistanwarên xwe ve difirin û bi şev diçêrin. Li gor wê, ev meh weha hatiye bi nav kirin.
Sermawez: Têgiha navê wê li ser e; sermayê tîne.
Berfanbar: Ji barîna berfê ev nav lê hatiye kirin. Di vê mehê de gelek berf dibare, hişkî dikeve, serma zêde dibe û di serê mehê de çile zivistanê dest pê dike.
Rêbendan: Ev nav ji bendkirina riyan hatiye girtin. Dewra berê çara berfavêtin û vekirina riyan tune bû. Ji ber vê yekê, gava qasek berf dibariya, pêşî li riyan dihat girtin. Ango dibû mîna bendan û bi hesanî riya derketinê ne dida. Ji xwe di mehên zivistanê de, li Kurdistanê zêde barîna berfê, tundiya bager û bapêçê û ketina şapan (aşîd) tê zanîn. Ev bûyer hemî ji sedemên bendkirina riyan bûn.
Reşemî: Ev nav ji meha reş hatiye himatê. Her çiqas peyva "reş" bi têgiha peyvî ya ferhengî, rengdêra rengê reş e, lê bi biwêjkî bi têgiha xwerû, saf, sade tê bikaranîn. Wekî, mêrê reş, jina reş, leşkerê reş, zivistana reş û hwd...
Hefteji, wek a salnameya Gregorîan (mîladî) ji heft rojan pêk tê:
| | | | | |
| --- | --- | --- | --- | --- |
| زەردەشتی | Zerdeşitî | کوردی | Kurdî | Rojên hefteyê |
| بەهمەن | Behmen | دووشەممە | Duşem | 1 |
| ئەردینهیشت | Erdibhîşt | سێشەممە | Sêşem | 2 |
| شەهریوەر | Şehrîuer | چوارشەممە | Çarşem | 3 |
| ئەسفەند | Esfend | پێنجشەممە | Pêncşem | 4 |
| خۆرداد | Xordad | هەینی | Inî | 5 |
| ئامورداد | Amurdad | شەممە | Şemî | 6 |
| ئورمزد | Urmezd | یەکشەممە | Yekşem | 7 |
Çavkaniyên babetan / di Wîkîpediya de beşên Kurdî, Erebî, Farisî, Swêdî û Îngilîzî